ORM Worm Digesters
Concept of Worm Digestion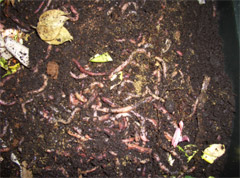 It handles Biodegradable Waste
It uses Livestock – Worms
It allows Waste to be handled on site
It impacts on Landfill Costs
It produces an Organic Growing Media
It encourages Recycling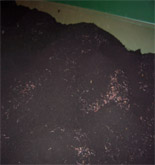 The Workers
We use Dendrobaena Veneta worms in our Worm digestion systems, they will consume up to 80% of their body weight per day and produce a 100% organic material for use elsewhere.
Worms are able to digest ~ Ordinary kitchen waste such as peelings, cooked and uncooked scraps, teabags, eggshells, paper kitchen towels, even shredded newspaper etc. In fact virtually any organic kitchen waste (a more extensive list is available upon request).
A Worm Digester is constructed according to what most suit your requirements , depending on
a) volume of waste available
b) location
Site Requirements
You will need a consistent & sustainable waste stream (Catering Waste – Biodegradable Waste).
Have a designated person responsible for waste handling.
Install a system for handling, separating and moving waste from bins & bags to your worm digester.
Have a method of shredding waste or use an ORM macerator
Make Use of the created organic matter.

Extra's
Single/Three Phase Power Supply (dependant on size).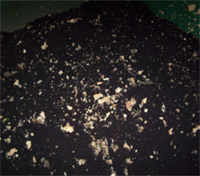 Essential Needs
Critical Factors – Requirements
Correct Volumes of Food – Not too much
Moisture – Water Supply
Oxygen – Air Supply included
Designated personnel – Monitoring
Waste Handling
Waste should be handled in bins (if possible).
Waste must be shreaded or chopped into small pieces.
Waste should be spread evenly across the worm bed in strips leaving 30% of the surface area uncovered by food.
Largest variety of food waste give best results.
Critical to monitor moisture level.
Examples of waste
Sandwiches
Cut flowers
Pot Plants
Fruit
Salads
Vegetables
Cakes
Bread
Non meat frozen products
Eggs
Cream
Cheese
Pasta
Cereals
Toilet Tissues
Kitchen rolls
Dried Pet Food
Fish and meat products(cut off digester only)
Yoghurt
Milk
Chocolates
Sweets
Biscuits
Crisp products
Savoury Snacks
Teas
Coffees
Sugar
Preserves
Flour
Rice
Staff canteen waste
Cafeteria waste
Leaves and landscape waste
Dirty/Wet cardboard
Used hand paper towels
Worm Digester 250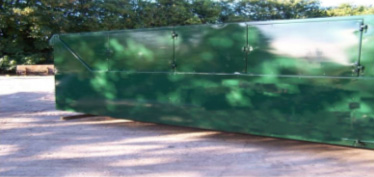 Different sizes available.
Hook lift skip based unit handles 125 kgs waste/day. Primarily used for food waste which when shredded is loaded though the doors and is then self contained.
No odours, no mess and little noise, very easy to manage.
Worm Digester 50
Standard Sizes Available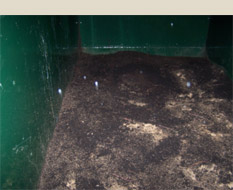 8'x4' 25kgs Waste/day
12'x4' 37.5kgs Waste/day
16'x4' 50kgs Waste/day
12'x8' 75 kgs waste/day
16'x8' 100 kgs waste/day
24'x8' 150kgs waste/day
32'x8' 200 kgs waste/day
Additional 8x8' sections can be added for extra 50 kgs per day

Flexible System
Increase Units – Volumes (Long Term)
Ongoing Use of Wormcast (Cut Off System)
No External Supplies Required (Power Etc)
Produced to Clients Specs (If Required)

Power Supply - Why?

24Hr Time Switch Operates Fan – Air Circulation
Junction Box – Maintains Power to Heater Tubes

Heater Tubes

Heater Tubes are Thermostatically Controlled
Maintains the temperature inside the Digester
Single electrical connection for Tubes and Fan system

The Vermicomposting process

Vermicomposting uses particular species of earthworms to process organic wastes into material possessing excellent chemical, physical and biological characteristics for improving plant growth and health.
During the vermicomposting process, organic matter is fully oxidised and stabilised and the nutrients are converted into readily available forms for plants.
Vermicomposts have a fine structure, high moisture-holding capacity, greatly increased microbial activity and contain growth regulators produced by micro organisms and the interaction with humic substances.

Food Waste Macerator

Worm Digester – Conventional

Worm Digester – Clients' Colour

What Next?

Progress project – requires a site visit.
Evaluate Waste Source – Volume and make up.
Calculate space and livestock requirements.
Produce detailed presentation.