Worm Breeding
M&B Williams is an energetic company, committed to addressing the problems of the disposal of biodegradeable waste.
EEC and Government legislation has dictated that green and kitchen waste disposal to landfill sites must be progressively reduced in the next decade.
Sustainable, environmentally sound solutions are at the heart of the company's business ethos. Industrial and commercial biodegradeable waste digestion and vermi-composting facilities are provided to suit the particular circumstances of the client and the nature of the waste involved.
We deal with the reduction of organic waste by various methods, one of which is utilising the digestive system of worms. This process is called vermi-composting and can reduce the volume of organic waste by up to 80%, producing worm casts as a by-product.
The volume of worms generally available in the market place is low, compared to the volume required for vermi-composting. M&B Williams is actively seeking suitable candidates to become contracted worm breeders in order that we may satisfy the existing buoyant market for worms and cater for the increases in demand that are occurring in the worldwide vermi-composting industry.
It is not possible to explain fully the techniques of worm breeding in a brochure. We therefore recommend that prospective breeders visit our operational unit to obtain further insight. Any questions that you have will then be answered by one of our experienced staff.
Should you wish to visit a breeding unit, please contact our office in Brecon and speak to :
Brian Williams or Helen Powell at
Slwch House Fields, Dorlangoch, Brecon, Powys, LD3 7RH
Telephone: 01874 611444 Fax: 01874611517
E-mail:
The following contains an outline of what is required to become a worm breeder. Vermis is the Latin word for worms and Vermiculture is the name given to the process of breeding and the general husbandry of Worms.
Location of Breeding Beds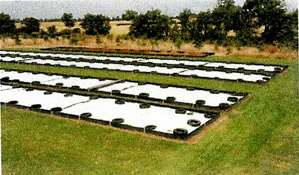 You will require approximately half an acre per 1,000m2 of breeding unit. This needs to be relatively smooth, without ruts, molehills, rises or hollows. Gradients on the land are not a problem . Land which is sheltered from the prevailing wind is useful, but should not exclude sunlight. Drainage needs to be adequate, so that a tractor may be taken on the land most of the tame. Avoid using land that has a problem with water laying for more than 24 hours after heavy rain.
An adequate water supply should be available either from the mains, a spring or a borehole, with relatively good pressure supplying a half inch pipe. A water bowser would also suit.
Bedding Medium
The material used to create a suitable breeding environment, that will enable the worms to compost the bedding and neutralise its PH level. includes the following:
Horse manure with straw, paper or wood shavings
Pre-composted wood shavings or bark
Peat with paper pulp, or sawdust
Cattle manure with straw or paper pulp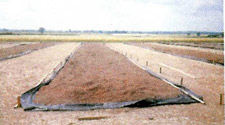 lf there is not enough of one type of material available, then mediums may be mixed together. Paper sludge up to 50% may be mixed with all the above mediums. We are able to source paper pulp very cheaply.
All mediums, ideally, should be passed through a manure spreader, or shredder to break up the material as finely as possible. This will help with pre-composting so that the manure will be cool enough for the worms to be introduced into the breeding unit.
A sample of your proposed bedding material will be tested for suitability.
Bed Maintenance
Feeding
Below is a list of popular foods that may be used:
Main Feed
Specially formulated cereal meal
Secondary or Winter Feed
Potato chips
Potato mash
Chopped stockaded potatoes or carrots
Chopped fodder beet
Pressed sugar beet pulp
Apple pomice
Other food sources need to be confirmed as suitable before they are used. With the exception of the specially formulated cereal meal most food sources need a protein, vitamin and mineral supplement. All food needs to be chopped as finely as possible, as this enables the worms to digest the food more quickly, providing better growth rates.
Unless cereal meal is used, it is desirable to have a hard- standing, ideally a concrete pad, for the storage of stock feed products. The pad does not need to be adjacent to the breeding unit. Access for large lorries is an advantage, but not essential.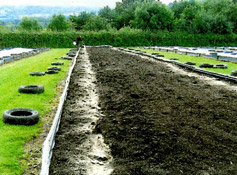 Worms should be fed in regular strips across the bed to allow breeding to take place away from the food. The natural habitat of the worm is to live in material close to PH neutral, (pH7 to pH8), whereas food can be between pH3 to pH10.
Where mechanical feed takes place, food strips are placed lengthways on the beds.
Food should not be applied in large quantities at one time, as this can lead to the food heating up, and driving the worms down to the bottom of the bed where they will not feed. Excess food will quickly become rancid and will not be consumed. Normally feeding is on demand but ideally every 10 to 14 days.
Pests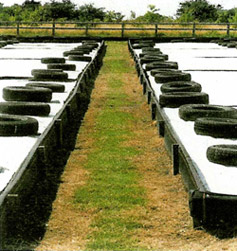 It is essential to keep the area free from:
Badgers and foxes
Moles and hedgehogs
Rats and mice
Birds, particularly crows, magpies and blackbirds
Grass snakes and frogs
Centipedes and red mites
Slugs and snails
All these can be managed by suitable pest control measures.
Watering
The ideal moisture content of a worm bed is obtained when you can squeeze a handful of bedding medium into a ball so that it just holds together and moisture is seen. If watering is necessary, the irrigation tape provided will deliver a fine mist over an entire bed.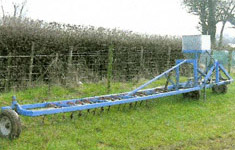 Bed Aeration
It is necessary to keep the bedding material loose and friable, as it helps the worms move through the medium easily, encouraging breeding and making harvesting less arduous. We can advise on suitable cultivation methods and equipment.
Harvesting
After approximately 12 months you will be ready to start harvesting your worms. An eight week cycle is normally adopted in order to achieve a regular rotation. Harvesting takes place just before the food is finished, followed by feeding before the top sheets are replaced.
The worms are then cleaned, weighed and packaged before despatch to ORM.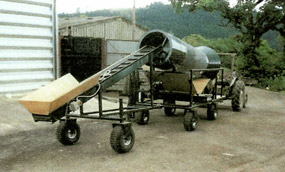 Worm Seperator
Indoor Fattening
The use of insulated and heated buildings during the winter months to fatten young stock is proving to Increase yields.
Initial Investment
A 1,000m2 requires an initial capital investment of £12.50 per m2 plus VAT. This includes the following items:
Premium tight weave base sheets
Timber pegs and batons
Black and white reversible top sheets
Winter fleece
Construction of beds
Irrigation tape
Breeding worm stock
Strategic site consultation during for the first year
Training on site
Telephone support
Minimum value production purchase agreement
Other site visits at regular intervals throughout the agreement period
Breeder Requisites
Land - 1/2 acre per 1,000 m2 of breeding unit
Bedding medium (120 - 150m3)
Application of bedding medium to base sheets
Weed killer - 2m wide around the outside of the beds
Sandbags or tyres to hold down topsheets
Barn with electricity supply for sorting, packing and storing worms
Sales Markets
Through our sales team, we offer clients the ability to dispose of their organic waste economically and on their own site. A small external composting unit, comprising one tonne of worms, will consume approximately 500kgs of waste per day. Landfill prices are set to increase sharply in the next few years as part of the Governments efforts to comply with the EC Landfill Directive.
Organic waste management is our primary market, and where our main marketing efforts are concentrated. The digestion of organic waste by worms produces worm casts, a high grade natural fertiliser. Worm casts are a rich nutrient source for plant growth, and are normally added to commonly available products to provide fertile growing mediums, sports turf dressings and brewed teas for liquid feeds.
Organic waste can take a variety of guises. Common types are fruit and vegetable waste, paper, cardboard, non- recyclable paper sludge, sewage sludge, animal manure, garden waste and canteen waste. We design solutions to suit individual problems, be it 5kg or 50 tonnes of waste per day, and cover all aspects of the process from waste preparation to the marketing of worm casts. A site handling 100 tonnes of waste per day will require in excess of 100 tonnes of worms annually.
We provide soil regeneration programmes to rejuvenate sites with soil structure problems, such as building site compaction, and the repudiation of contaminated sites.
We also supply worms in bulk consignments for pest control, the composting industry and the fishing bait market, both in the UK and internationally.
Future Developments
As a company we are continually reviewing our production methods and sales markets. Production techniques and any changes thereto are adopted to increase yields and quality. Our breeders are kept informed of any improvements so that they may benefit from any increased production.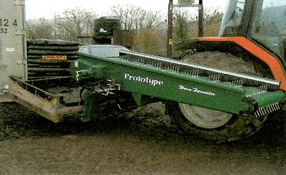 We are currently developing a mechanised worm bed picker.