Cyclamen and Poinsettias.
Brookhouse Nurseries part of the GCP group have seen excellent results with the addition of Wormcast~Pro in some of their Cyclamen and Poinsettia compost mixes this autumn.
The Wormcast~Pro mixes were supplied by Sinclair Horticulture and used to run comparison trials against their normal mixes.
Nursery Manager Robin Squance stated that there was a remarkable and notable difference in root and plant development within the first few weeks which has continued to date. The plants with Wormcast added have also formed much stronger growth.
One batch of Poinsettia cuttings arrived in very poor condition, and those potted into the Wormcast mix recovered very quickly and have produced excellent plants compared to those in the normal mix.
Robin said I have seen enough benefits to know that I need to use Wormcast in my future mixes.
Poinsettias 4 weeks from potting. Control on left Wormcast mix on right.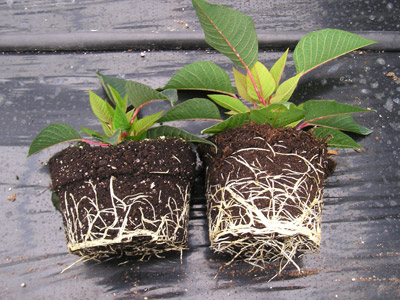 Cycleman also 4 weeks after potting. Control on left Wormcast mix on right.