Reprinted with kind permission of the Steatham Guardian.
Rats 'no match' for wriggly worm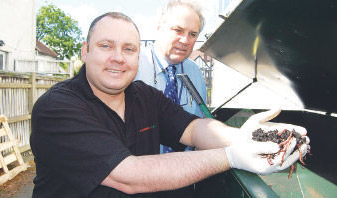 Nature plays host to many great animal contests - from cheetah against gazelle to the humble cat versus mouse.
But a Streatham school has unearthed a whole new heavyweight contest - the worm against the rat.
Sick of the pink-tailed rodents coming into the school to feast on waste in the bins, Dunraven School's facilities manager David Parry decided to drive them out with an army of up to 300,000 wiggling warriors.
He has installed two 15ft wormeries to eat through the schools food waste, restricting what is left for the schools unwanted neighbours.
In doing so the school has become the first in London to use a wormery as part of its eco-drive, turning 90% of the food waste it produces into rich wormcast, a type of fertiliser that is used in the school's flowerbeds.
He said "We have told Lambeth Council's environmental health team about the rats but they do nothing, so we have had tocome up with our own solution.
"The rats weren't the only reason to get the wormeries - it has helped cut our waste going to landfill dramatically – but there's no doubt it's helped cutting down the infestation problem."
The wormeries were purchased in January from horticultural business Enterprise Plants, who come every few days to feed the worms.
All the school's food waste, except meat, is run through a grinding machine, known as The Mastigator.
The wormery lid is then opened, and the shredded food sprinkled in alternate sections of the soil each feeding time so the worms are not overfed.
Wayne Bryant, who runs the system for Enterprise, said: "The worms aren't fussy, but they do seem to be quite partial to Chinese food – they love rice and pasta as well."
"They eat like machines too," he added. "They can eat their own bodyweight in a day."
Headteacher David Boyle said he was delighted the school was the first to use such a scheme and it was part of a wider programme of eco-inititiatives being put in place through consultation with students.